This weekend I was in Stockholm, participating in, and representing The Echo Nest at the Stockholm Music Hack Day held at Spotify HQ.  It was quite an impressive event.  Hundreds of hackers from all over Sweden and many others from all around the world joined together for 24 hours of hard core music hacking.  Spotify did an excellent job hosting the event.  The space was ideal for hacking – rock solid wifi with lots of bandwidth,  an endless supply of caffeinated beverages, comfortable seating, and great audio/visual facilities for demos.
(photos by johncb1973)
There were a whole lot of music tech companies there too, showing off their technology. Such as:
Proper hacking started just after lunch on Saturday, and continued on through the afternoon, and into the evening.  Hackers worked while eating dinner, and snacks, and taking advantage of the seemingly infinite supply of Coke, Redbull and Lager.  By the time the sun set over Stockholm the hacking was in full force.
Hacking continued through the evening, with a good fraction of hackers still working at 3AM (when I decided to try to catch a few hours of sleep). Some just slept at their computers.
Some hackers brought along musical instruments and incorporated them into their hack.
Some hackers built their own musical instruments.
Finally after 24 hours Andrew Mager – (Host and MC), gathered us all together for the demonstration, where each hacking team would have 2 minutes to show off their hack.
There were over 60 hacks demonstrated in a 3 hour period. Kudos to Andrew to keeping things moving along. There was very little demo fail – thanks to the good A/V and support from Andrew and his team.
While each team gave their demo, 100s of fellow hackers and guests watched, laughed, cried and celebrated the wonder of the music hacks.
There were all kinds of hacks:  interactive games, music exploration and discovery, playlisting, remixing, sequencing.  The hacks were incredibly creative, and despite the demo session being 3 hours long, the time just flew by.  Be sure to check out the entire list of hacks.
We got to listen to much good music,  from Oscar's Flamenco guitar to creative remixing of the Blue Note Catalog.
I was quite pleased to see the number of hacks that took advantage of Echo Nest data to remix music.  All of them were quite unique and clever uses of our API.
Stealing Feeling was one of my favorites of the Remix apps. They use the Echo Nest API to extract the rhythmic feeling of a song and used it to turn the output of a sterile drum machine beat into a living, breathing, human sounding rhythm.
My own demo was called Going Undercover.  I used cover song data from SecondHandSongs to make music discovery playlists.
There were lots of Echo Nest based hacks.  We originally planned to give out 2 prizes, but after seeing so many extremely high quality Echo Nest hacks  we doubled the number of iPads we were giving out.  The Echo Nest prize winners are:
The Sampler formerly known as Magnum Infinitity – TSFKAMI, is a musical instrument which creates patches from any sound or music you supply to it. Specify any directory with music or sounds on your hard drive and the contents will be uploaded to the EchoNest, which scans each file for short snippets with a pure(ish) pitch. The soundfiles are then chopped up and the desired snippets sorted by musical note and timbre and delivered to the sampler for that velvety smooth sounding goodness. https://www.hackerleague.org/hackathons/music-hack-day-stockholm-13/hacks/the-sampler-formerly-known-as-magnum-infinity
Super Mutroid – A music/rhythm platform game with a Super Metroid theme. – Plays a song through Libspotify and downloads song data from EchoNest. Generates obstacles based on the beats in the song. – https://www.hackerleague.org/hackathons/music-hack-day-stockholm-13/hacks/super-mutroid
Pimp My Radio – A physical standalone radio that connects to a WiFi network and plays music from Spotify based on your daily moments (wakeup, relax, work out, romance, party ). The radio has a knob control for setting the situation you want and also an lcd screen for showing the lyrics of the current song in sync with the time. https://www.hackerleague.org/hackathons/music-hack-day-stockholm-13/hacks/pimp-my-radio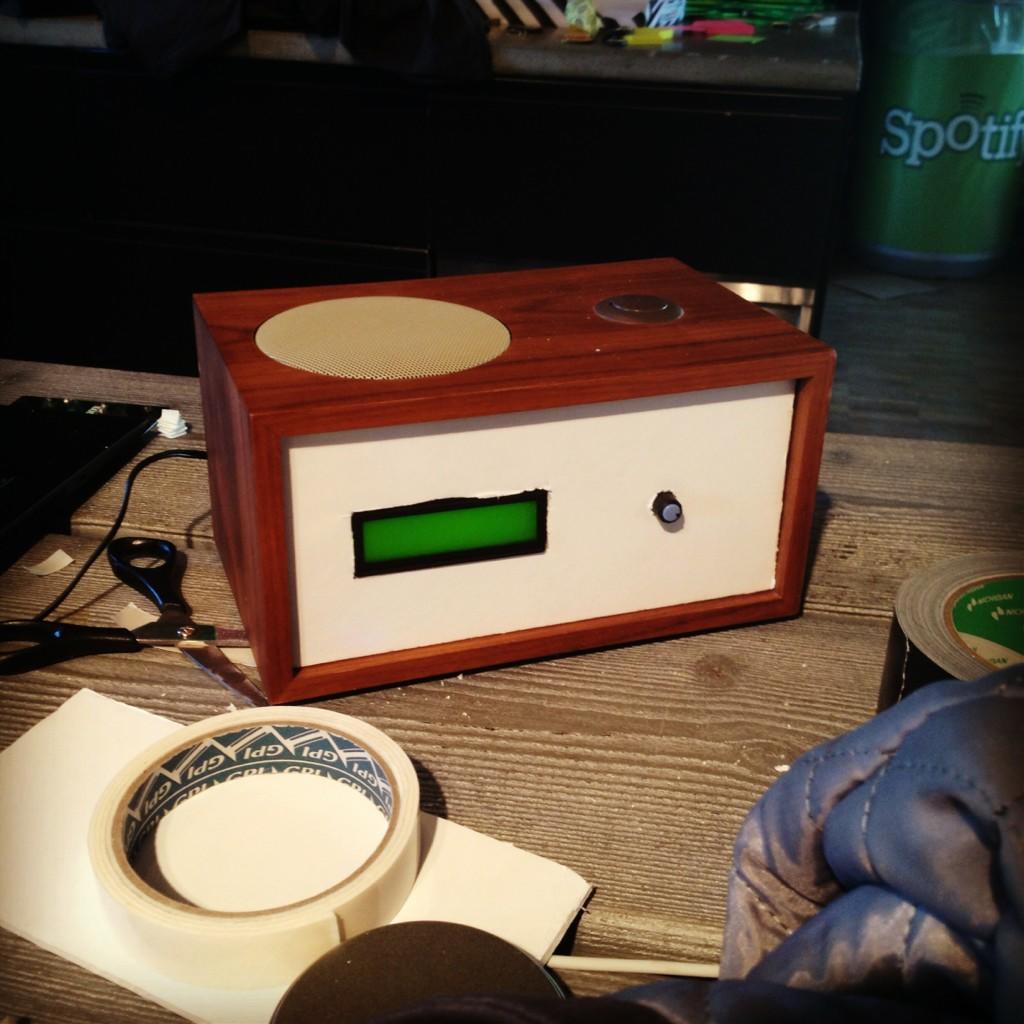 Stealing Feeling Based around a 16 step javascript sequencer which a user can program to run a drumkit generated in web audio, or to trig analog synths.Then, apply the swing from Aretha Franklin or Squarepusher on your song. https://www.hackerleague.org/hackathons/music-hack-day-stockholm-13/hacks/stealing-feeling
Other notable EN hacks
It was a fantastic weekend. Thanks to Andrew and the rest of the Spotify crew for hosting the event, and thanks to all the hackers who brought your passion for music and technology to the event and build some incredible stuff.
Special thanks to Johncb1973 who took most of these pictures.
The work of an Executive, International Music Hacker is never done.  This weekend I'll be traveling to Cannes for the Midem Music Hack Day. Life is good.